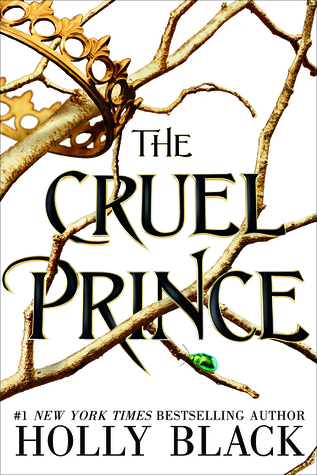 Of course I want to be like them. They're beautiful as blades forged in some divine fire. They will live forever.

And Cardan is even more beautiful than the rest. I hate him more than all the others. I hate him so much that sometimes when I look at him, I can hardly breathe.

Jude was seven years old when her parents were murdered and she and her two sisters were stolen away to live in the treacherous High Court of Faerie. Ten years later, Jude wants nothing more than to belong there, despite her mortality. But many of the fey despise humans. Especially Prince Cardan, the youngest and wickedest son of the High King.

To win a place at the Court, she must defy him–and face the consequences.

In doing so, she becomes embroiled in palace intrigues and deceptions, discovering her own capacity for bloodshed. But as civil war threatens to drown the Courts of Faerie in violence, Jude will need to risk her life in a dangerous alliance to save her sisters, and Faerie itself.
My Thoughts:
This book wasn't on my radar until the the pre-order campaign came stomping through my twitter feed with this gorgeous cover. Sure, I'd heard of Holly Black. I easily have half a dozen of her books on my bookshelves... But I hadn't read any of them yet.
Shame on me.
Let me tell you, the innards of this book are as pretty as the outside. I loved it. L. O. V. E. It's beautiful, dark, and dangerous. I adored Jude, and the relationship she has with her sisters. The world is rich and nuanced. And the villains are villainous. So delightfully so. The writing is amazingly well-done. Flawless.
I cannot get enough of this world. As soon as I finished it, I devoured TITHE and then immediately started VALIANT.
I need the next book now, please. Ugh. So many feels. I highly recommend this one. Go read it now.
Rating: ***** (5 stars)
Have you read THE CRUEL PRINCE? Is it in your TBR pile? Seriously, move it to the front of the line. You won't be disappointed. :D
Happy Reading,
Chelly
___________________________________________________
RATING SCALE: 
 5* = OMFG loved it. Will read it again. Touch my book and I will cut you. 
 4* = Really good. Highly recommend. Miiiight reread. Maybe. Don't touch my book. 
 3* = Good. I liked it. Go ahead and touch it. 
 2* = Not for me, finished but struggled. Didn't connect. Here, have a book.
 1* = DNF. Couldn't do it.
________________________________________________________

Click on the cover to link to Goodreads and leave your book recs in my comments. Oh, yeah, and find me on twitter: @ChellyPike