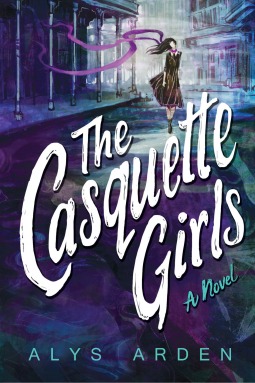 From Goodreads
Seven girls tied by time.
Five powers that bind.
One curse to lock the horror away.
One attic to keep the monsters at bay.

After the storm of the century rips apart New Orleans, sixteen-year-old Adele Le Moyne wants nothing more than her now silent city to return to normal. But with home resembling a war zone, a parish-wide curfew, and mysterious new faces lurking in the abandoned French Quarter, normal needs a new definition.

As the city murder rate soars, Adele finds herself tangled in a web of magic that weaves back to her own ancestors. Caught in a hurricane of myths and monsters, who can she trust when everyone has a secret and keeping them can mean life or death? Unless . . . you're immortal.
My Review
Let me preface this by saying that I'm very hesitant to read anything set in New Orleans. Very hesitant. I've been burned before. People who write New Orleans who've never lived here tend to get sooooo much wrong that it's painful to read.
Alys Arden is not one of those writers. She gets everything right.
I found THE CASQUETTE GIRLS by accident. B&N had their book fair and some of their events were sort of advertised and some weren't mentioned online at all. I got there early for an advertised event (which never ever happens) and Alys Arden was doing a talk/book signing. Kismet. Fate. I'd say karma, but that'd take me in the wrong direction. Ahem.
New Orleans is beautifully done. Post-storm New Orleans at that. I could've read this for the setting alone, but, sigh, the characters... The first quarter, maybe less, of the story has a lot of character development and setting, with snippets of intrigue and a nice slow-build on the fantasy elements. We get to know Adele as she gets adjusted to post-storm living. Things start a little slowly, but when they pick up, OMG, they pick up. I lost sleep. Plenty of sleep. And I don't regret it.
This story feels so true to New Orleans, and the characters are so alive that I found myself comparing them to actual people. Even secondary characters. They are so lifelike it feels like she plucked the off the sidewalk and stuffed them between the pages. I love how she weaves history with fiction to create such a rich, nuanced story. I am DYING for the next book in this series, THE ROMEO CATCHERS, and highly recommend this book, especially to those who love YA, fantasy, and New Orleans.
Find links to buy and more reviews on
Goodreads
.
Follow my blog for more reviews and let me know what you think. What are you reading? What's your most anticipated book of 2016? 2017?
Give me a book recommendation. Find me on twitter @chellypike.


Happy Reading,
Chelly