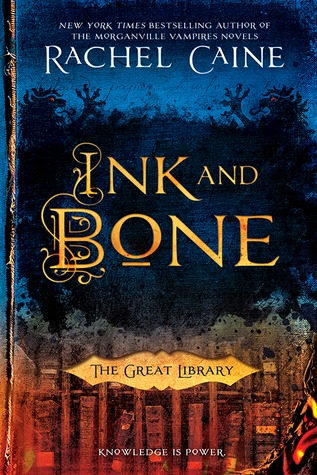 My Review of INK AND BONE by Rachel Caine:
My first review of the month and OMG, y'all. Words fail me. Not really, but how can I do justice to this book?
Having never read anything by Rachel Caine before, I didn't know what to expect. Now that I've finished INK AND BONE, I want to read everything she's ever written. How did this happen? I blame everyone who has ever read one of her books for not smacking me across the head and forcing one of them into my hands.
The pacing is dynamic, effortless, and I couldn't put it down. The story is brilliant, complex, and perfectly executed. The layers of character and conflict are so well handled that I'm in awe. Speaking of characters, I love them all. Each and every one of them is alive on the page. The book has everything. I plowed through it at warp speed, because I had to know what happened next, and now I want to read it again to savor the details. And I will read it again. It's going on my keeper shelf. INK AND BONE is the book by which I will judge all future books!
This one gets ALL THE STARS ***** and I need extra stars. I want to cover it in STARS.
*I received an electronic arc of this title from FirstToRead in exchange for an honest review and I honestly loved it.
Yes, you absolutely need this book in your life, so find it here on
Amazon
or go to
Goodreads
for more places to buy.
As always, I hope my reviews help books find happy grabby hands, so let me know if you pick it up and what you think about it. :)
Happy reading,
Chelly
P.S. Thoughts and comments are always welcome and appreciated. Drop me a comment with recommendations or find me on twitter @ChellyPike
_______________________________________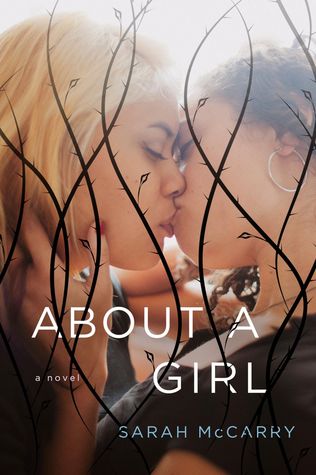 My review of ABOUT A GIRL by Sarah McCarry:
I received of ABOUT A GIRL from Netgalley in exchange for an honest review and started reading with two false assumptions. First, based on the glorious cover, that it was a contemporary romance, and second, based on my own lack of research, that it was a stand-alone. I was obviously wrong on both counts.
Twists and turns. Fantastic elements. Smoking hot romance. Check. The voice, especially in the beginning, is a little bit of a smarty-pants roller coaster. I held on and went along for the ride. Once the story really gained momentum, holy crap, did it move.
The characters were complex and real. Love, love, love the diversity. I will read the first two, but this book definitely stands alone.
I rate this one FIVE STARS *****
Find a copy at
Amazon
or go to
Goodreads
for more reviews and links.
_______________________________________________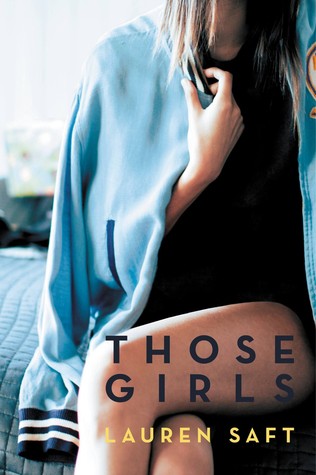 My review* of THOSE GIRLS by Lauren Saft:
I started this book without any expectations and found myself staying up late to finish it. Told from the POV of three female MCs, this book gets both the insecurities of teenage life and that of toxic relationships completely right. Are they unlikeable? Yep. Did I enjoy reading about them? Yep. Did they seem like real people? Yep. Lauren Saft nailed the complex world of the dysfunctional teen in THOSE GIRLS. I can't wait to see what she does next.
I give THOSE GIRLS four and a half shiny stars and recommend for those who love an unlikable protagonist. I mean really unlikable, but so fun to watch. It was a like a magically entertaining train wreck.
If you like THOSE GIRLS and/or unlikeable MCs you might enjoy
PRETTY LITTLE DIRTY
by Amanda Boyden and
SWAY
by Kat Spears.
*I received an eARC from Netgalley in exchange for an honest review.
Find it on
Amazon
or go to
Goodreads
for more links and reviews. Have great books to recommend? Drop me a comment or find me on Twitter @ChellyPike and send me review links. Thanks and there are more reviews below.
Happy reading,
Chelly
_______________________________________________
My review* of COLD MOON by Alexandra Sokoloff:
COLD MOON is the third book in Alexandra Sokoloff's The Huntress series and it was worth the wait.
It's dark and riveting and I enjoyed the hell out of it. The pacing is quick, the dialog is sharp, and the tension, wow. The characters, well, it's damn near impossible not to root for the murderers, which says a lot about how complex and compelling are characterization are.
If you haven't read
HUNTRESS MOON
and
BLOOD MOON
, definitely read them first.
Alexandra Sokoloff is a master of the genre and is on my must-read list. And for writers, her books on writing are excellent tools of the craft.
This one gets all the stars: ***** and I highly recommend it and all of Ms. Sokoloff's other titles.
Find it on
Amazon
or go to
Goodreads
for more links and reviews.
What are your favorite thrillers? I'm always looking for recommendations.
Happy Reading,
Chelly
*I received a copy of this title in exchange for an honest review and I honestly loved it.
_______________________________________________
I'm on the fence about this one. It's hard to review novels set in and about New Orleans written by non-natives. There were some moments that had me nodding and saying, "yep, she totally nailed it" and others where I was like, "wait, what? No. No. No."
There's a bit of French/Cajun woven in, but, much as I love the language (I have fond memories of my grandmother hollering at me in French.), there was too much for my taste. It's for seasoning, yes, but I think a few one or two word expressions would have spiced this up just fine. As is, there are long strings of it and then--sometimes--a line that semi-sorta explains it. It just slowed things down for me and there were already enough bumps to slow me down.
I liked Elita and Pryor. They were great. Very likable. Very memorable. And the chemistry was hot, but I found the pace rather slow. Lots of telling and plenty of interruptions to pull me out of the narrative and I was just about ready to write this one off...
But then about 3/4 of the way through, the pace kicked up into high gear. The story slowed to a lazy summer drawl, steamy and hot, and I was in it with Elita and Pryor. All the action. All the details. And I got sucked in--stayed up reading until it was done.
So I wanted the start to match the ending. More fleshed out scenes in the beginning, I think, would've help me connect with the characters sooner. Overall, a good story. I liked it, but I didn't love it. I give it three stars *** and recommend for die-hard PNR lovers. The premise is great, so I'm hoping the next one picks up where this one left off--with the same fast pace and steamy characters.
See for yourself. Find it on
Goodreads
and let me know what you think.
What are you reading? Drop me a comment with thoughts or recommendations and find me on twitter @chellypike.
Happy reading,
Chelly