Timekeeper
(Timekeeper #1)
Two o'clock was missing.

In an alternate Victorian world controlled by clock towers, a damaged clock can fracture time—and a destroyed one can stop it completely.

It's a truth that seventeen-year-old clock mechanic Danny Hart knows all too well; his father has been trapped in a Stopped town east of London for three years. Though Danny is a prodigy who can repair not only clockwork, but the very fabric of time, his fixation with staging a rescue is quickly becoming a concern to his superiors.

And so they assign him to Enfield, a town where the tower seems to be forever plagued with problems. Danny's new apprentice both annoys and intrigues him, and though the boy is eager to work, he maintains a secretive distance. Danny soon discovers why: he is the tower's clock spirit, a mythical being that oversees Enfield's time. Though the boys are drawn together by their loneliness, Danny knows falling in love with a clock spirit is forbidden, and means risking everything he's fought to achieve.

But when a series of bombings at nearby towers threaten to Stop more cities, Danny must race to prevent Enfield from becoming the next target or he'll not only lose his father, but the boy he loves, forever.
What I thought:
I loved some things about this book and other things were just meh.
The premise hooked me. Love the clock element. Love Danny. Love the M/M romance. Cassie is a great secondary character. Loved the feminist touches.
The scenes with Danny and Colton were my favorite part of the story, but a lot of the characterization fell flat for me. Some of the plot elements felt unbelievable and the ones that didn't seemed easy to predict. I wanted a lot less telling and a lot more showing. I think that would've helped to speed up the pace. The first half of the book was too slow for me.
Overall, it was a cute story with a lot of potential. I just wanted more from it.
Rating: *** 3 Stars
*I received an eARC of this title from the publisher via NetGalley
_________________________________________________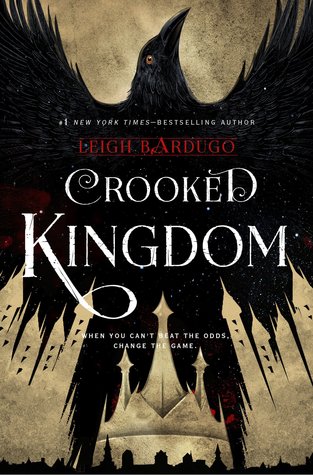 Kaz Brekker and his crew have just pulled off a heist so daring even they didn't think they'd survive. But instead of divvying up a fat reward, they're right back to fighting for their lives. Double-crossed and left crippled by the kidnapping of a valuable team member, the crew is low on resources, allies, and hope. As powerful forces from around the world descend on Ketterdam to root out the secrets of the dangerous drug known as jurda parem, old rivals and new enemies emerge to challenge Kaz's cunning and test the team's fragile loyalties. A war will be waged on the city's dark and twisting streets―a battle for revenge and redemption that will decide the fate of magic in the Grisha world.
What I thought:
OMG I love this book. The first one was wow. Pretty sure that's a technical term. This one... I'm still processing it. I love Kaz so much. But there are so many characters to love. *sobs* Highly recommend this series and I need more Kaz.
Rating: ***** 5 stars
That's it. All I've got. I've been super busy with edits for the MS I'm working on so it's been a slow reading month, but I'm already working on My Favorite Books of 2016 post.
Anyone got any favorites they want to share?
Follow me here for more reviews and find me on twitter
@chellypike
.
Happy Reading,
Chelly