Here are my reviews for September: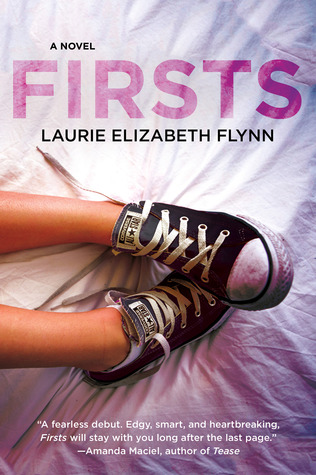 My review of FIRSTS by Laurie Elizabeth Flynn:
First the blurb:
Seventeen-year-old Mercedes Ayres has an open-door policy when it comes to her bedroom, but only if the guy fulfills a specific criteria: he has to be a virgin. Mercedes lets the boys get their awkward, fumbling first times over with, and all she asks in return is that they give their girlfriends the perfect first time- the kind Mercedes never had herself.

Keeping what goes on in her bedroom a secret has been easy- so far. Her absentee mother isn't home nearly enough to know about Mercedes' extracurricular activities, and her uber-religious best friend, Angela, won't even say the word "sex" until she gets married. But Mercedes doesn't bank on Angela's boyfriend finding out about her services and wanting a turn- or on Zach, who likes her for who she is instead of what she can do in bed.

When Mercedes' perfect system falls apart, she has to find a way to salvage her reputation and figure out where her heart really belongs in the process. Funny, smart, and true-to-life, FIRSTS is a one-of-a-kind young adult novel about growing up.
My thoughts on FIRSTS:
I read this book in less than a day, which--to me--means the pacing is flawless. The characters are delightfully fleshed out, and Mercedes (a.k.a. Mercy) is perfectly flawed. Seriously flawed. Flawed in a way that makes girls unlikable to other girls and, really, everyone else, and I loved her. Damaged. Her logic is twisted in a way that makes sense only to her. And this book. Wow. I've lost the ability to craft sentences.
No spoilers, so just read this book. You get a gold star if you like unlikable characters because there is definitely a thick layer of unlikability here. And it's done in the best possible way--with all the feels. All of the characters are layered and real. The pacing makes this book a thrill-ride to the end, where you're waiting for the train to crash, because it has to crash, right?
I give this one all the shiny stars ***** and insist that everyone reads it. Insist. So pre-order it. Go to
Amazon
or find it on
Goodreads
for more reviews and links. And since it's mean to taunt you with a book that you can't have until January 5, 2016, here are links to books you can buy that are perfect and out right now:
INK AND BONE by Rachel Caine
THE WRATH AND THE DAWN by Renee Ahdieh
HIT by Delilah S. Dawson
* I received an eARC of this title from Netgalley in exchange for an honest review and I honestly loved it.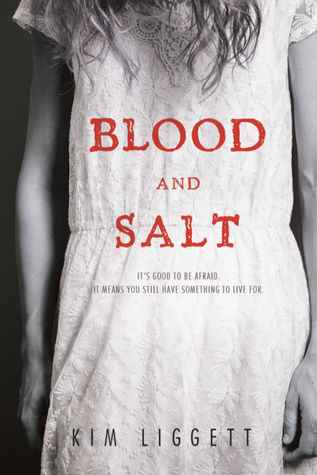 My review of BLOOD AND SALT by Kim Liggett:
First the blurb:
Romeo and Juliet meets Children of the Corn in this one-of-a-kind romantic horror.

"When you fall in love, you will carve out your heart and throw it into the deepest ocean. You will be all in—blood and salt."

These are the last words Ash Larkin hears before her mother returns to the spiritual commune she escaped long ago. But when Ash follows her to Quivira, Kansas, something sinister and ancient waits among the rustling cornstalks of this village lost to time.

Ash is plagued by memories of her ancestor, Katia, which harken back to the town's history of unrequited love and murder, alchemy and immortality. Charming traditions soon give way to a string of gruesome deaths, and Ash feels drawn to Dane, a forbidden boy with secrets of his own.

As the community prepares for a ceremony five hundred years in the making, Ash must fight not only to save her mother, but herself—and discover the truth about Quivira before it's too late. Before she's all in—blood and salt.
My thoughts on BLOOD AND SALT*:
The cover is delightfully creepy and the book definitely delivers on that promise. I mean, really, you had me at romantic horror, so I went into this with unrealistic expectations, but was continuously taken aback at the myriad twists and turns. This story is one of a kind, but thankfully not for long, because the next book in this duology will release next Fall.
I loved Ash. I love her voice.
And she has a twin. Yes. I love the sibling aspect to the story. I love their banter.
The early interactions with her mother, well, I don't want to give anything away, so I'll just say that the set-up is very well done.
The corn, sigh, is setting personified. The creepy thrills keep coming right up until the ending. The romance is weaved into the story--like cornhusk wreaths and ropes and dolls--forbidden but fated, and seemingly doomed from the start. I wanted more at the end, but it's not really the end.
My only complaint is that there's a bit more narrative distance in the writing than I like in first person. Yes, the distance exemplifies the main character's struggle to feel like herself in light of everything happening to her, but I wanted to feel closer to the story. I wanted every aspect to be more visceral, more immediate.
I loved this book. I give it four perfectly creepy, romantic stars ****, and can't wait to devour the second book.
It releases on Sept. 22 and you can find it on
Amazon
or go to
Goodreads
for more reviews and links. Fair warning: you're going to want the hardcover as this one belongs on your keeper shelf.
*Thanks to Penguin's First To Read for a free eARC of this title in exchange for an honest review.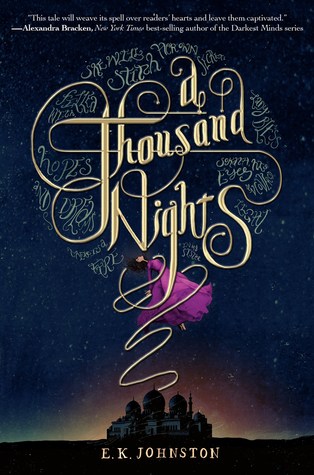 My review of A THOUSAND NIGHTS by E.K. Johnston:
First the blurb
:
Lo-Melkhiin killed three hundred girls before he came to her village, looking for a wife. When she sees the dust cloud on the horizon, she knows he has arrived. She knows he will want the loveliest girl: her sister. She vows she will not let her be next.

And so she is taken in her sister's place, and she believes death will soon follow. Lo-Melkhiin's court is a dangerous palace filled with pretty things: intricate statues with wretched eyes, exquisite threads to weave the most beautiful garments. She sees everything as if for the last time. But the first sun rises and sets, and she is not dead. Night after night, Lo-Melkhiin comes to her and listens to the stories she tells, and day after day she is awoken by the sunrise. Exploring the palace, she begins to unlock years of fear that have tormented and silenced a kingdom. Lo-Melkhiin was not always a cruel ruler. Something went wrong.

Far away, in their village, her sister is mourning. Through her pain, she calls upon the desert winds, conjuring a subtle unseen magic, and something besides death stirs the air.

Back at the palace, the words she speaks to Lo-Melkhiin every night are given a strange life of their own. Little things, at first: a dress from home, a vision of her sister. With each tale she spins, her power grows. Soon she dreams of bigger, more terrible magic: power enough to save a king, if she can put an end to the rule of a monster.
What I thought
:
I have many feelings about this book.
First, the language is beautiful. Very atmospheric. Clever dialog. Wonderful characters. The level of storytelling is so well-executed that I'm ashamed at how long it took me to notice that--with the exception of the king--the characters aren't named.
I loved the sister aspect of this story and the mc's selfless act. I loved the relationships she develops with the women. Loved the magic and the mystery.
I usually have problems with slower stories. But the beautiful way this story evolves kept me engaged to the end and the imagery pulled me through scenes that might've felt slow and plodding.
The end left me wanting more. I think that's the only aspect that left me a bit unsatisfied. The ending felt too rushed and maybe a little incomplete.
Overall, I really liked this and recommend it, but don't expect a romance, because it's not.
*I received a copy of this title from Netgalley in exchange for an honest review and I honestly enjoyed it a lot.
I give this one 4 stars **** and will very likely read it again. If you want to pick it up, it releases on October 6, 2015 by Disney Hyperion. Find it on
Amazon
or go to
Goodreads
for more reviews and links. And then tell me what you thought. Pretty please.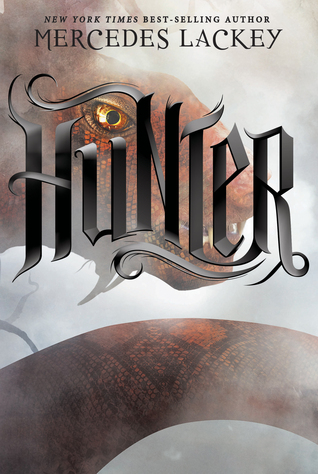 My review of HUNTER by Mercedes Lackey:
First the blurb:
Centuries ago, the barriers between our world and the Otherworld were slashed open allowing hideous fantastical monsters to wreak havoc; destroying entire cities in their wake. Now, people must live in enclosed communities, behind walls that keep them safe from the evil creatures constantly trying to break in. Only the corps of teen Hunters with lightning reflexes and magical abilities can protect the populace from the daily attacks.

Joyeaux Charmand is a mountain girl from a close knit village who comes to the big city to join the Hunters. Joy thinks she is only there to perform her civic duty and protect the capitol Cits, or civilians, but as cameras follow her every move, she soon learns that the more successful she is in her hunts, the more famous she becomes.

With millions of fans watching her on reality TV, Joy begins to realize that Apex is not all it seems. She is forced to question everything she grew up believing about the legendary Hunters and the very world she lives in. Soon she finds that her fame may be part of a deep conspiracy that threatens to upend the protective structure built to keep dark magic out. The monsters are getting in and it is up to Joy to find out why.
My thoughts:
HUNTER started off great for me. The premise drew me in, and the promise of it kept me reading. I found Joy, the MC, very engaging. She's in a new place--a turnip--and she's adjusting to city life. She befriends some of her fellow hunters. The author does a great job of fleshing out a few of the main players here and the landscape. There's a love interest, which I liked. About halfway through, the set-up started to feel less like a promise and more like a tease. The big bad Folk Joy encounters in the opening pages is hinted at over and over again. I get that this is likely the first in a series, but I wanted more to happen in this book. So as not to give too much away, I'll just say that the plotting and pacing began, for me, to deteriorate around the 75% mark--maybe a little sooner. The plot points toward the end were too obvious for my liking, and the first person narration flattened out a lot, to the point where the action felt like a list of things that happened. I did finish and I'm curious as to where this goes, but I was disappointed in the too-easy ending.

*I received an eARC from Netgalley in exchange for an honest review.
If I could give 2.5 stars, I would've, but I rounded up to 3 stars *** because I did enjoy the beginning of the story a lot.
You can find it on
Amazon
or go to
Goodreads
for more reviews and links to buy. And then tell me what you thought.
I love to hear from fellow readers. Drop me a comment or find me on twitter @ChellyPike.
Happy reading,
Chelly