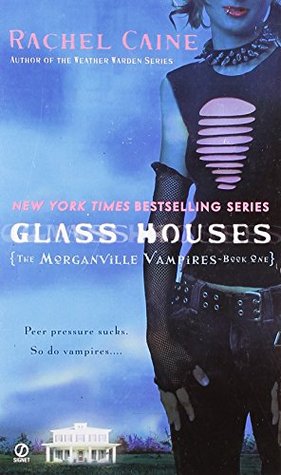 GLASS HOUSES by Rachel Caine:
The Blurb:
College freshman Claire Danvers has had enough of her nightmarish dorm situation. When Claire heads off-campus, the imposing old house where she finds a room may not be much better. Her new roommates don't show many signs of life, but they'll have Claire's back when the town's deepest secrets come crawling out, hungry for fresh blood. Will she be able to face the town's terror or will she drown like everyone else?
What I thought:
Okay, so I'm super late to the game on this one, but I read INK & BONE and loved it, so I'm starting in on some other Rachel Caine titles.
Even though everyone has likely already read this, I'm going to attempt to review this without spoilers because I hate, hate, hate spoilers. Super-smart Claire is easy to like. She's so smart that she's the youngest freshman on campus. I worried since I prefer older YA, but my worries were quickly put to rest. Ms. Caine is a master at storytelling and this novel proves it. The story is fast-paced, well-crafted, and full of twists and turns. A Great example of a great start to a series. I'm hooked.
I give it 4 1/2 glittering stars and recommend to all YA readers, young and old.
Find it on
Amazon
or go to
Goodreads
for more links.
Have you read it? Tell me what you thought. Do you have a favorite Rachel Caine title? Drop me a comment. I love comments.
Happy reading,
Chelly