My review of THE STAR-TOUCHED QUEEN by Roshani Chokshi: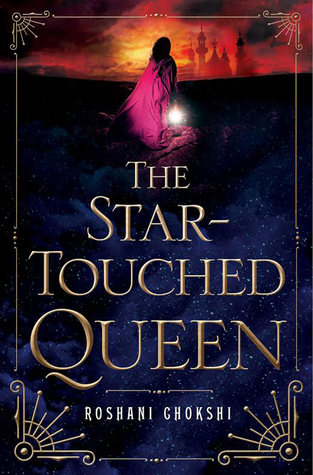 From Goodreads
:
Fate and fortune. Power and passion. What does it take to be the queen of a kingdom when you're only seventeen?
Maya is cursed. With a horoscope that promises a marriage of Death and Destruction, she has earned only the scorn and fear of her father's kingdom. Content to follow more scholarly pursuits, her whole world is torn apart when her father, the Raja, arranges a wedding of political convenience to quell outside rebellions. Soon Maya becomes the queen of Akaran and wife of Amar. Neither roles are what she expected: As Akaran's queen, she finds her voice and power. As Amar's wife, she finds something else entirely: Compassion. Protection. Desire...
But Akaran has its own secrets -- thousands of locked doors, gardens of glass, and a tree that bears memories instead of fruit. Soon, Maya suspects her life is in danger. Yet who, besides her husband, can she trust? With the fate of the human and Otherworldly realms hanging in the balance, Maya must unravel an ancient mystery that spans reincarnated lives to save those she loves the most. . .including herself.
A lush and vivid story that is steeped in Indian folklore and mythology. The Star-Touched Queen is a novel that no reader will soon forget.
What I thought:
From the first page, I loved this story. Cursed and ostracized, Maya is at once charming and heartbreaking. I wanted to hold her hand and follow her through the story, and I'm not a hand-holding kind of girl. Wow. The language here is stunning and the world building is expertly done.
Amar. Sigh. His words. Sigh. I seriously couldn't adore him more. It's hard to explain what this book did to me without spoilers, so I'll just say that I savored every page. I highly recommend this book.
*I received an eARC of this title from Netgalley in exchange for an honest review and I honestly loved it so much that I bought a physical copy so I could pet it like a kitten. This one gets all the stars ***** and you can f
ind it on Goodreads to order your very own because you need this book in your life.
Are you dying to read this? Have you already read it? What did you think? Leave me a comment and find me on twitter @chellypike.
Happy reading,
Chelly
P.S. Can anyone please tell me where I can acquire my very own demon horse? Because I need one.