Is blood thicker than magic in La Nouvelle-Orléans?

Tormented by the fate she condemned her mother to, and by the lies she's forced to tell to cover it up, Adele scours Storm-ravaged New Orleans for the truth about her family's magical past. But every turn leads her back to the one person she's determined to forget: Niccolò Medici. Not even the multitude of enchanted locks on the attic door trapping Nicco within can break their connection.

Sensing Nicco calling to Adele, Isaac tries relentlessly to keep her from exploring paths too dark that would endanger them all. But a new threat is rising: the Medici's presence has attracted something else to New Orleans…an older enemy, one that will bring Isaac's haunted past to life, test the witches' friendships, and jeopardize Adele and Isaac's blossoming relationship.

In this spellbinding continuation of The Casquette Girls saga, Adele must draw on the past—from seventeenth-century Florence, a time bubbling with alchemy and fraternal betrayal—and sort history from fantasy if she is to have any chance of saving her mother, her coven, and her magic.
What I thought:
First, this picks up where THE CASQUETTE GIRLS (book 1 in the series) leaves off. So if you haven't read it yet, go ahead, I'll wait...
Wow! You read fast. Ahem.
I loved Adele in THE CASQUETTE GIRLS. The city is a character in its own right. And the actual characters, its like Alys Arden peeled them off the streets and pasted the onto the pages. All of that is still fabulously true in The Romeo Catchers.
And OMG how to do profess my adoration without giving anything away?
Okay, here goes... There's a bunch of mystical witchy stuff and amazing friendships and *sigh* romance. And that's just scratching the surface. So, yeah, I think everyone should read this series.
Rating: ***** (5 stars)

*I received an eARC of this title from the publisher via NetGalley in exchange for an honest review. (And I also pre-ordered it because it told me it wanted to live on my bookshelf.)
_______________________________________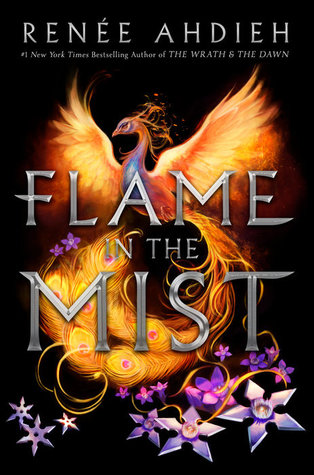 From the #1 New York Times bestselling author of The Wrath and the Dawn, comes a sweeping, action-packed YA adventure set against the backdrop of Feudal Japan where Mulan meets Throne of Glass.

The daughter of a prominent samurai, Mariko has long known her place—she may be an accomplished alchemist, whose cunning rivals that of her brother Kenshin, but because she is not a boy, her future has always been out of her hands. At just seventeen years old, Mariko is promised to Minamoto Raiden, the son of the emperor's favorite consort—a political marriage that will elevate her family's standing. But en route to the imperial city of Inako, Mariko narrowly escapes a bloody ambush by a dangerous gang of bandits known as the Black Clan, who she learns has been hired to kill her before she reaches the palace.
Dressed as a peasant boy, Mariko sets out to infiltrate the Black Clan and track down those responsible for the target on her back. Once she's within their ranks, though, Mariko finds for the first time she's appreciated for her intellect and abilities. She even finds herself falling in love—a love that will force her to question everything she's ever known about her family, her purpose, and her deepest desires.
What I thought:
Let me count the ways I love Mariko. Independent. Check. Fierce. Check. Brave. Check... I could go on and on and on, but then you'd never get to the end of this review... and then you'd never get to read this amazing book.
This story is so rich in culture and the details paint such a fascinating picture I wanted to crawl into them and hang out for a while. Renee Ahdieh's writing is beautiful and I will read everything she writes. Yes, read this. You also want: THE WRATH & THE DAWN and THE ROSE AND THE DAGGER, which are links because I'm a giver.
Rating: ***** (5 stars)

*I received an eARC in from the publisher via NetGalley in exchange for an honest review. (But I pre-ordered it anyway, because I wanted to pet it like a kitten. It is pretty soft. Just saying. ;))
_______________________________

Sixteen-year-old and not-so-openly gay Simon Spier prefers to save his drama for the school musical. But when an email falls into the wrong hands, his secret is at risk of being thrust into the spotlight. Now Simon is actually being blackmailed: if he doesn't play wingman for class clown Martin, his sexual identity will become everyone's business. Worse, the privacy of Blue, the pen name of the boy he's been emailing, will be compromised.
With some messy dynamics emerging in his once tight-knit group of friends, and his email correspondence with Blue growing more flirtatious every day, Simon's junior year has suddenly gotten all kinds of complicated. Now, change-averse Simon has to find a way to step out of his comfort zone before he's pushed out—without alienating his friends, compromising himself, or fumbling a shot at happiness with the most confusing, adorable guy he's never met.
What I thought:
Okay, so I'm way late to the game. This lovely book has been patiently waiting on my shelf for forever as I've been plowing through not-yet-published books. Shame on me.

Simon. Sigh. Blue. Sigh. This story is so well done. Simon is so fresh and real and I had all the feels. Highly recommend and my 13yo agrees (and she stole my copy and won't give it back.)
Rating: ***** (5 OMG I-can't-believe-I-waited-so-long-to-read-this stars)
Happy Reading! Find me on twitter @chellypike and drop me a comment. What's your best book of 2017 so far?
Chelly